General Assembly for Members
A recap of our inaugural gathering of members
Last week, World Coffee Research held its first-ever General Assembly for members at the Specialty Coffee Association of America (SCAA) in Atlanta. At the assembly, we launched our 2015 Annual Report and updated members on our collaborative research to ensure the future of coffee.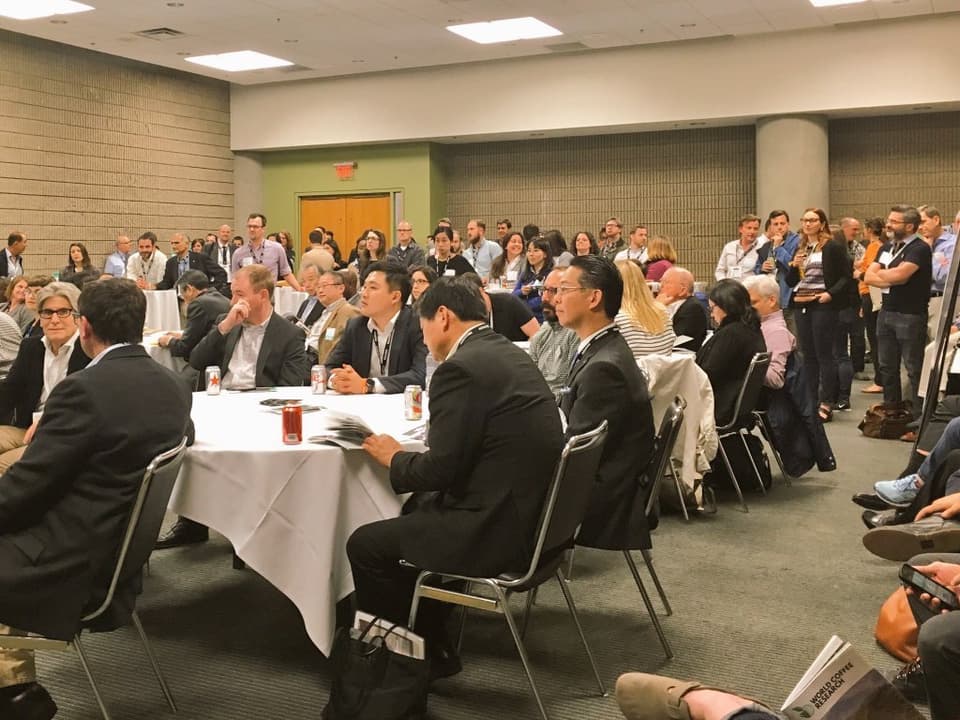 Highlights

Sustainability award

In Atlanta, WCR was honored to receive the SCAA's 2016 Sustainability Award for our International Multilocation Variety Trial. The ongoing project was recognized by the Specialty Coffee Association of America for it's potential to transform the landscape of coffee varieties around the world.

Announcing new varieties
In November 2015, we successfully launched our breeding program. Working with coffee breeders and experts in Central America, WCR has created 50 hybrid crosses. We are pursuing the development of two new varieties (one tall, high quality, and acceptable for growing above 1300 meters where leaf rust is not present; one dwarf, high yielding, with quality commensurate with Caturra, and resistant to rust). The varieties will be evaluated and selected for performance over the coming five years. In 2016, we will begin similar work in East Africa and Colombia, working with local partners to create the next generation of varieties for those regions. Read more.

Coming soon—a coffee catalog

In 2016, we are also launching programs to bring existing, high-quality varieties to farmer fields. Many farmers have little information about improved varieties, or little access to them. In June, WCR will publish the first-ever regional coffee catalog for Central America, with guidances for farmers on how the varieties can be expected to perform. We will also publish an interactive website to accompany the catalog. Preview the catalog.

Into farmer fields

In 2016 we are also bringing high-quality varieties, including hybrids, to farmer fields through a network of on-farm demonstration trials. The project takes the idea of traditional "demonstration" plots—showing farmers how different varieties and soil treatments can help them earn more—but extends it dramatically to include the gathering of "big data" about the extent to which the new technologies improve farmer profitability and about the conditions under which varieties perform best, so we can provide meaningful, rigorous, accurate guidance for farmers on what will work best for them.

Protecting coffee, forever

Finally, we announced a new partnership with the Global Crop Diversity Trust (Crop Trust), the world leader in protecting plant genetic diversity, to develop a strategy to preserve coffee's genetic resources—to save as many wild species and cultivated varieties as possible before it is too late. Read the press release.

WCR by the numbers

Our organization is young—our first staff were hired in 2013. In three short years, we have grown an international network of scientific collaborators and a huge portfolio of programs.

22: # of countries we work in
25: # of partner institutions
26: # of scientists
11: # of staff
35: # of research projects
1: # of research farms
Ensuring the future of coffee
Coffee is massively under-researched. WCR is working to expand our knowledge of how coffee varieties perform in different environments, and to make better tools for farmers. Our work is supported by coffee roasters, importers, equipment makers, and others whose business depends on the ability of farmers to make a living from coffee.

For every $1 invested by the coffee industry in our work, we do $2 worth of research. By 2026, we hope to grow our $2.6 million budget to $10 million, to deliver the impact farmers—and coffee businesses—need.

Become a member today.