WCR listens to industry feedback with new global consultation
Report identifies four priorities for agricultural R&D
Since its inception in 2012, World Coffee Research (WCR) has been devoted to ensuring sustainable supplies of quality coffee that is profitable for farmers through agricultural research and development (R&D). In early 2020, as we were preparing to embark on a process to fine-tune our strategic approach and develop our research agenda for the next five years, it was critical to reach out to our stakeholders—members, partners, national governments, and others—to listen to their needs and priorities for coffee agricultural R&D and to stay abreast of current and emerging needs amid the rapidly evolving sustainability landscape.
The result was a global consultation encompassing nearly 140 interviews, and 896 survey responses, from representatives across the value stream. This outreach is summarized in a new report: the Global Coffee R&D Awareness and Priorities Consultation 2020.

"We have evolved and grown as an organization, and our program portfolio is coming to a natural inflection point," says WCR CEO Jennifer "Vern" Long. "Ensuring our programs and activities are relevant to the broader coffee community is critical to ensure resources are aligned and complement the broader investment landscape. We need to be nimble and responsive, and engagement with the community is key to ensuring we're focused on the right things."
To conduct the consultation, we completed 137 in-depth interviews with coffee sector stakeholders from 31 countries in Africa, Asia, Latin America, Europe, and the Americas, representing coffee research programs, roasters, farmer associations, and more. We also surveyed 894 people from across the coffee sector, 261 of which were CEOs or owners of their companies. (See the graphic below for a detailed breakdown of all respondents.) WCR members—nearly 200 coffee businesses small and large from around the globe—were critical contributors to the consultation, but we received feedback from hundreds of non-members as well.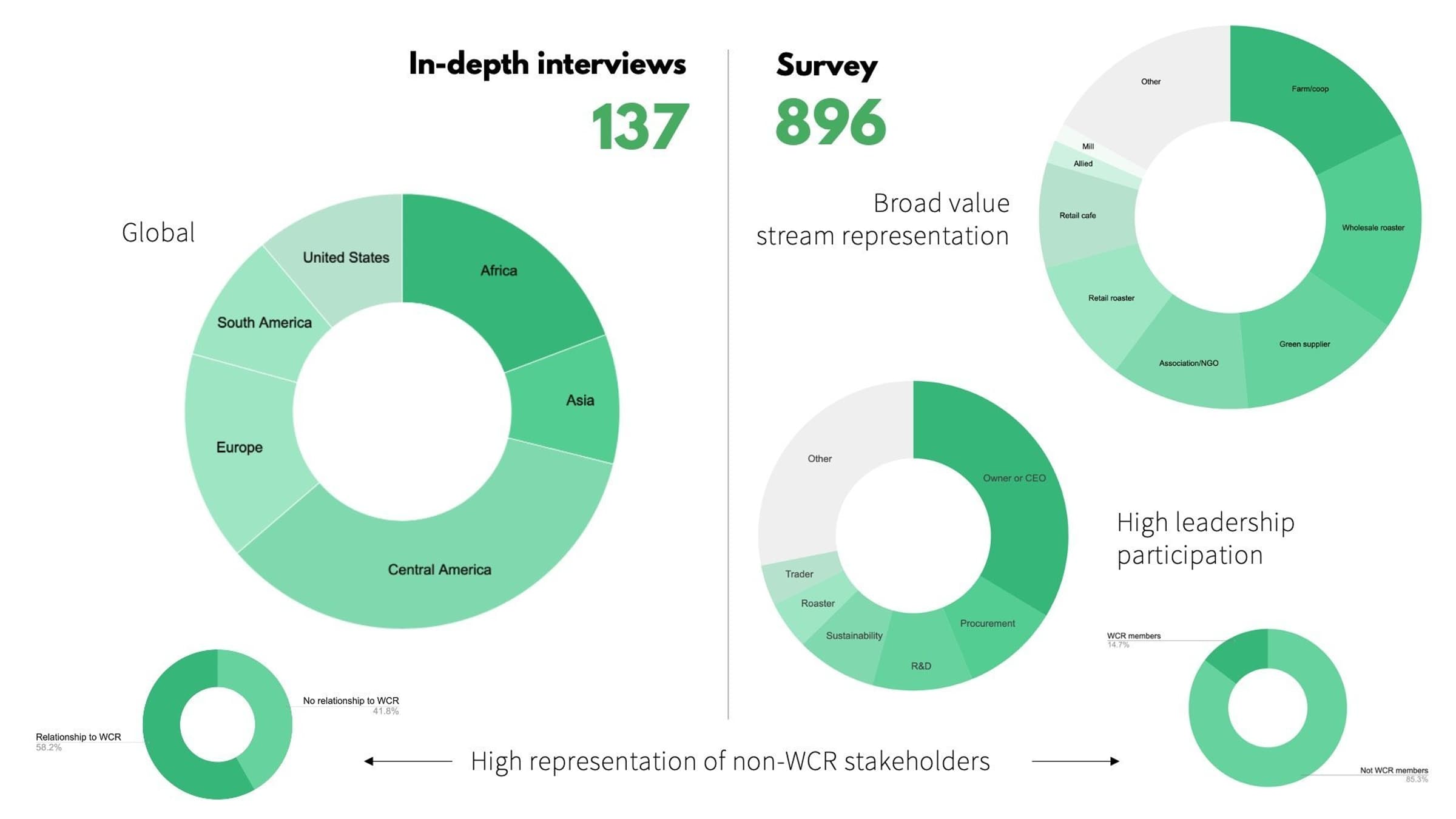 From this broad base of input, we identified four common global priorities:
Farmer profitability as the lynchpin of sustainability
Origin diversity for supply chain risk mitigation and flavor diversity
Quality for consistency and flavor
Climate adaptation and mitigation
In addition to collecting these priorities, the report summarizes stakeholders' knowledge of current agricultural R&D efforts in coffee, and looks specifically at the priorities of coffee roasters and buyers, which include access to a consistent supply of high-quality, differentiated coffee from a range of origins, and engagement to improve farmer profitability and address climate change.

"Climate change is the defining issue of our time," says Vern. "Everything agricultural R&D does must be oriented to address it and to build resilience and diversity into coffee production systems. Feedback from roasters has confirmed our global footprint is more relevant than ever, as we seek to support their goals of managing supply risk through bolstering coffee production across many countries. Further, quality is a critical differentiator in the market, and the community's feedback reinforces our efforts to address quality in our program portfolio."
The report also takes a look at the R&D interests of coffee stakeholders by region, which include better access to improved varieties in Latin America; improved pest and disease control in Africa; and robusta production in Asia. The report concludes with a horizon scan of new potential areas of agricultural R&D focus that our or other coffee R&D organizations might consider, such as next-generation weather forecasting, genetic/molecular precursors of flavor, and costs/methods of mechanization vs. traditional harvesting.
With the consultation now complete, we are considering how to incorporate suggestions from stakeholders into our program while conducting ongoing R&D efforts with coffee communities around the world. The consultation is critical in helping us build a relevant and technically sound five-year strategy.
"In the months ahead, we'll refine our program portfolio to deepen engagement in several countries to enhance country competitiveness," says Vern. "We also see the broad demand for improved communications and connectivity among supply chain partners—farmers, national researchers, traders, and farmer-support organizations—and we will partner with the community to enhance that connectivity to ensure continued relevance of our portfolio, but also ensure the message gets out of tested technologies and options for improving profitability, productivity, and quality."