What to check out at the upcoming ASIC conference
Industry Day will bring together the research community and coffee professionals, while lectures throughout the event will provide the latest information on cutting-edge topics in coffee science.
Next week, coffee scientists from all over the world will gather in Portland, Ore., for a biennial conference dedicated to the science and technology of coffee. This conference, known as ASIC, always attracts the best and brightest of coffee research. World Coffee Research (WCR) will be engaged in a wide range of activities at the conference; below is a list of what we'll be taking part in and some of what we'll be checking out at ASIC 2018.

Industry Day Lectures
This year, ASIC is hosted by the Specialty Coffee Association, and through this partnership the event is introducing a new concept. ASIC Industry Day—taking place Wednesday, September 19—is dedicated to inspiring collaboration between coffee scientists and coffee professionals, a mission that WCR wholeheartedly supports. Industry Day will include full day of talks, panel discussions and Q&As on the cutting edge of coffee science. WCR is invested in bridging science and industry, which is why our Scientific Director Christophe Montagnon is one of the keynote speakers of Industry Day. His presentation is entitled "Battling Coffee Leaf Rust Through Genetics and More."
Another important element of Industry Day will be Sarada Krishnan's presentation on coffee conservation strategies. In her talk, she will posit that the key to ensuring the sustainability of coffee will lie in utilizing the varied genetic resources to develop varieties with drought stress tolerance, pest and disease resistance, high cup quality, and increased production. In 2016, World Coffee Research and the Global Crop Diversity Trust spearheaded the development of the Global Conservation Strategy for Coffee Genetic Resources, and she will talk about its work over the last two years. We're really excited about the results of her survey, and what steps she recommends for the coffee community to set coffee on the correct path toward sustainability.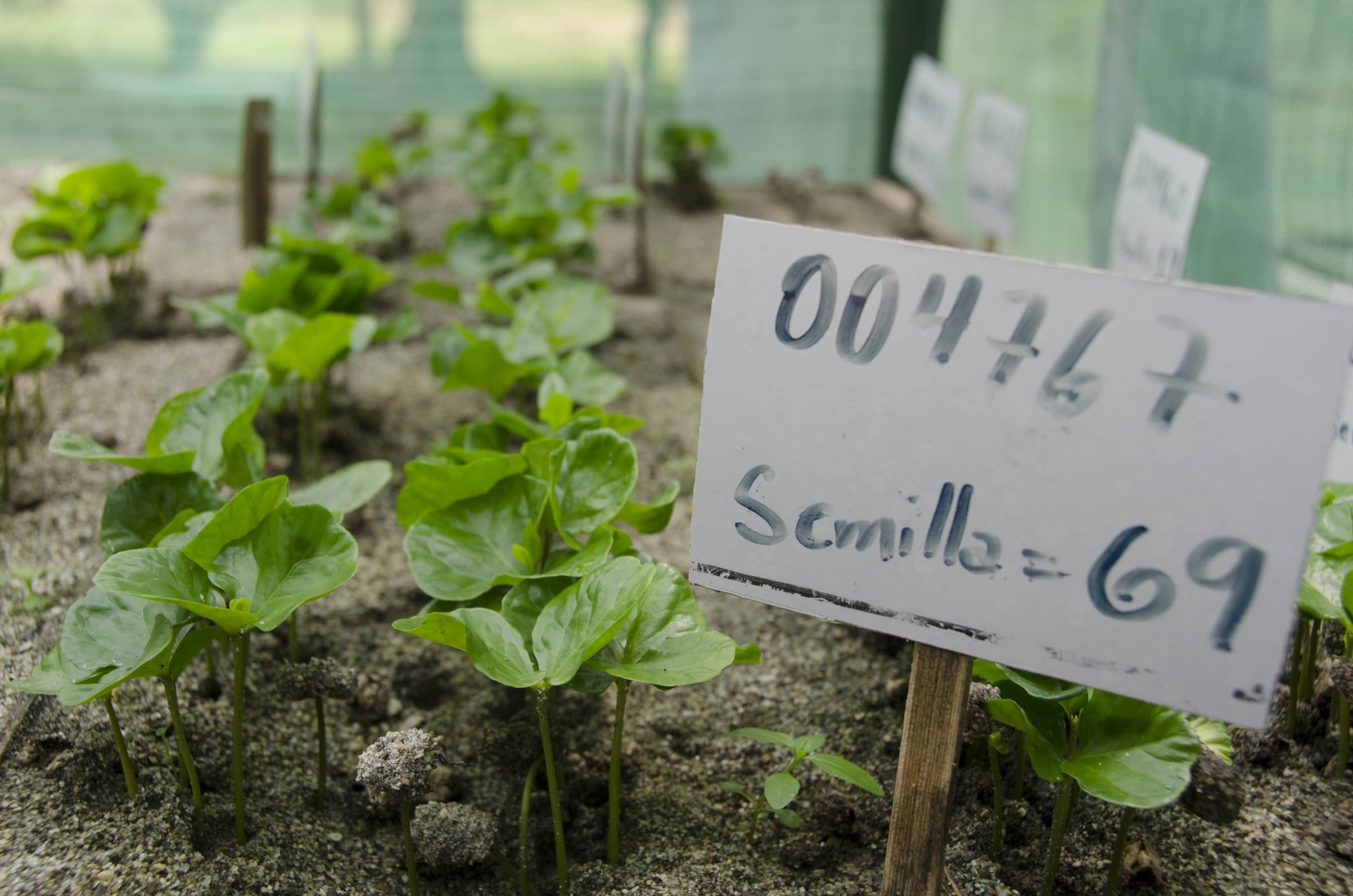 Our Lectures During ASIC
Industry is only a single day during the conference; the other three days will be full of fascinating scientific lectures, specifically tailored for a scientific audience. There will be five lectures by WCR team members here -- Sarada Krishnan will be presenting on coffee conservation strategies during the conference as well. We're excited to give you a little bit of advanced information on the other WCR team lectures below.
Christophe Montagnon's presentation will focus on the molecular basis of coffee quality, led by WCR together with IllyCafe. His research takes on the question of how the market defines quality coffee, and offers a potential answer—a promising molecule for coffee quality. Montagnon's research started with 12 professional cuppers, who were given 60 different coffees. Cuppers could evaluate each coffee on a sliding scale from 1-5 as to whether they believed the coffee to be "specialty" quality. From these results, Montagnon and his team determined three categories of samples—commercial, specialty, and top specialty. Through the use of both WCR's Sensory Lexicon and a chemical analysis of the volatile organic compounds run by IllyCafé, Montagnon honed in on interesting compounds, one of which might open new research strategies, and we're so excited to hear more about it at ASIC. This presentation is on Monday, September 17, at 11:30 a.m.
Taya Brown, a graduate student from Texas A&M University, will be presenting on the socioeconomic context around smallholder farmers in Yepocapa, Guatemala. Through a development project implemented by WCR and Anacafe, farmers received the newly Promecafe developed F1 hybrid variety Centroamericano. Many coffee scientists believe F1s will maximize farmer profitability, as F1 hybrids are often disease-resistant, have a high yield, and score high on cup quality. Through a series of interviews and focus groups, Brown was able to gather a wide variety of data that give the coffee community a better understanding how to implement future F1 hybrids to maximize the effectiveness for smallholder farmers. This presentation is on Monday, September 17, at 3:55 p.m.
Solene Pruvot-Woehl, WCR's International Multi Location Variety Trial coordinator, will be presenting on WCR's coffee genetic diversity database. It includes all the dimensions of genetic diversity of the species: from Ethiopian, Yemeni, and South Sudanese accessions to a large representation of old and new cultivated varieties. The results of the detailed analysis of this database will be presented during her lecture, including a fascinating new insight on breeding history and the genetic landscape of currently grown coffee varieties. This presentation is on Thursday, September 20, at 9:45 a.m.
WCR's molecular breeder Lucile Toniutti has been investigating the molecular basis of dwarfism and male sterility in Arabica coffee, as they are major traits for breeders. Breeding for dwarfism leads to production of coffee trees well adapted to smart intensification. The objective of her study was to find markers associated to dwarf and male sterility in order to set up marker-assisted breeding and to speed up varietal creation. She will share the specifics of her research at ASIC. This presentation in on Thursday, September 20, at 11:50 a.m.