Battling climate change using creative and cost-effective methods in Uganda
A story of collaboration with USAID's Feed the Future to fight climate change in Uganda
As a child, Ivan Ssembajwe, a young coffee farmer from the plush countryside of Luwero, Uganda, would keenly watch his grandmother and mother tilling the land day in and day out to grow crops for sustenance and income. With every changing season and passing year, Ivan's fascination and passion for coffee farming grew as he observed the humble coffee seedlings flourish into mature trees bursting with crimson cherries. This fostered in Ivan a passion for farming and in due course, his mother taught him the basics of agriculture and gave him a portion of the family land to grow coffee professionally. Today, Ivan grows coffee intercropped with bananas on 1 acre of land and on another acre, he grows tomatoes, cassava and sugarcane for both food security and income. "Out of all my income generating ventures, it is coffee that makes me the most money," declares Ivan.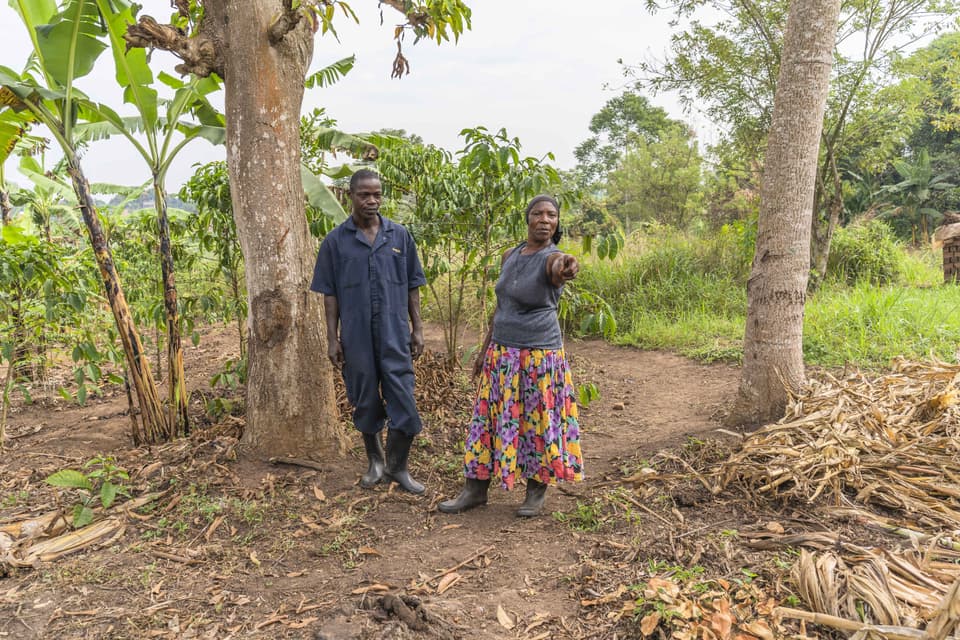 "When I was younger, my mother's coffee would grow almost effortlessly but over the years as temperatures have gradually risen and seasons have become increasing unreliable, it takes a lot more skill." — Ivan Ssembajwe

The effects of climate change like extreme droughts and unreliable rainfall are resulting in reduced yields and ultimately reduced income for farmers like Ivan. He elaborates, stating: "My coffee is drying up and there are also more incidences of pests and diseases which means I am not always guaranteed a plentiful harvest."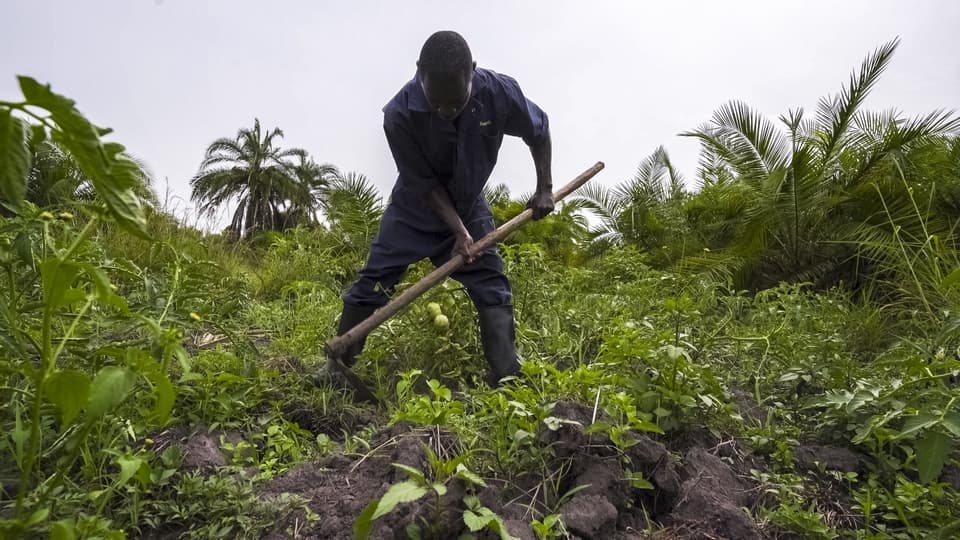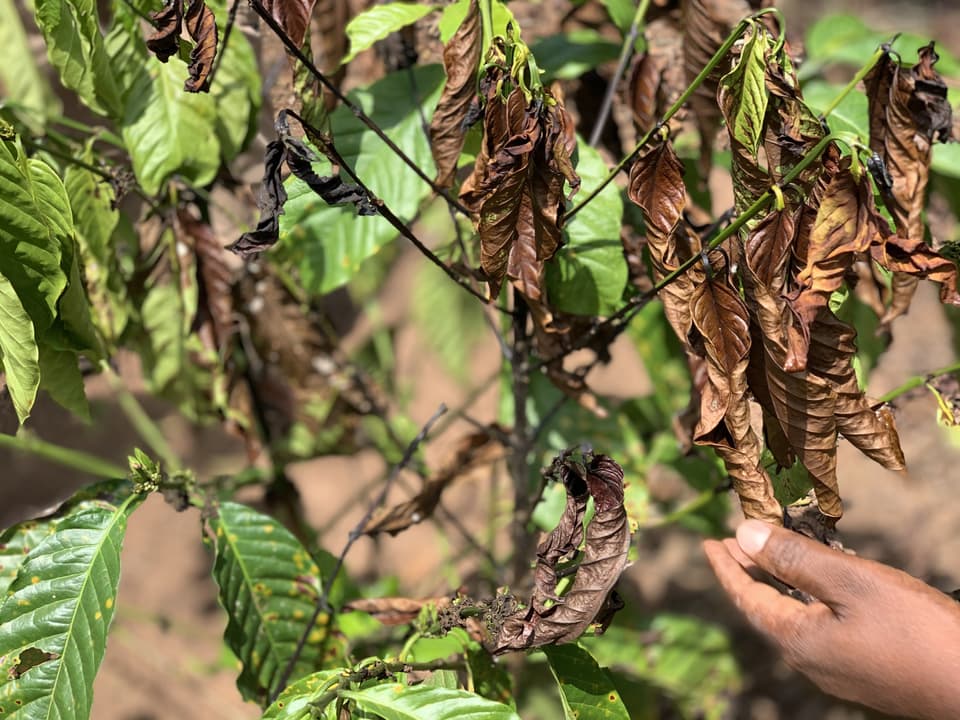 "At HRNS, we mostly support setting up of demonstrations, extension and training farmers on different climate-smart practices like mulching, trenching, shade tree planting, cover crops and others," explains Victor Komakech the ARC Project Manager in Uganda. These trainings have reached over 1,600 coffee farming families in Ntungamo and Luwero (where Ivan hosts a demonstration plot.) Similarly, IITA has set up 20 demonstration plots of a tool they developed called the Climate Smart Investment Pathway (Stepwise). "Stepwise is an approach which breaks down the entire package of climate-smart practices and good agronomic practices into small affordable units that farmers can implement in phases," explains David Mukasa, IITA's Research Associate. As a result, many farmers in Luwero have learned how to gradually increase their yields within their means.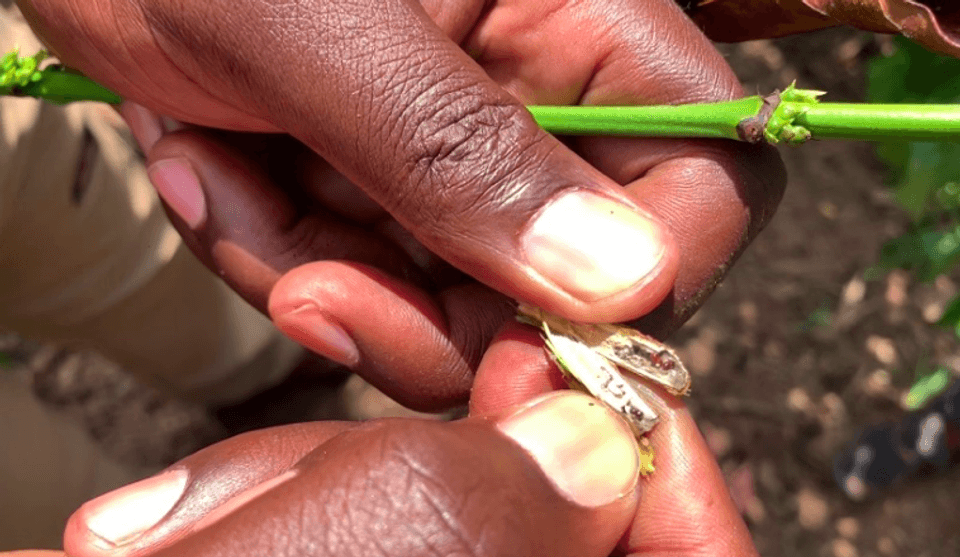 Like IITA, World Coffee Research is conducting research on a tool we developed called the On-Farm Technology Trials (OFTTs). The OFTTs test a combination of climate-smart practices alongside various coffee varieties in order to find solutions that are cost effective and best suited for farmers depending on the region in which they reside. "We are looking at how best we can combine these practices alongside the varieties to get a higher yield while also looking at the cost," explains Maureen Namugalu, World Coffee Research Country Agronomist. The OFTT research is being conducted in 10 districts across Uganda with over 36 trials implemented. "These are trials, we are testing them and we shall get results. Once we have the results, we can advise the farmer," states Maureen.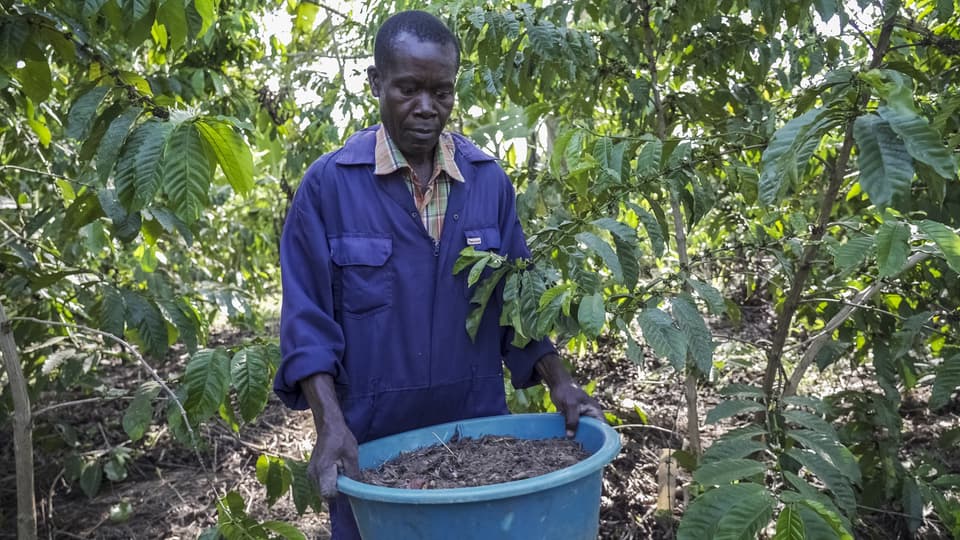 "On my demonstration plot, I have implemented the following; trenching, pruning, stumping, mulching, shade tree planting and pest and disease control. Additionally, the ARC project has supported me to set up a rainwater harvesting well for irrigation." — Ivan Ssembajwe

Subsequently, Ivan has been able to enlighten his mother and other farmers in his community so they too can make their coffee climate smart.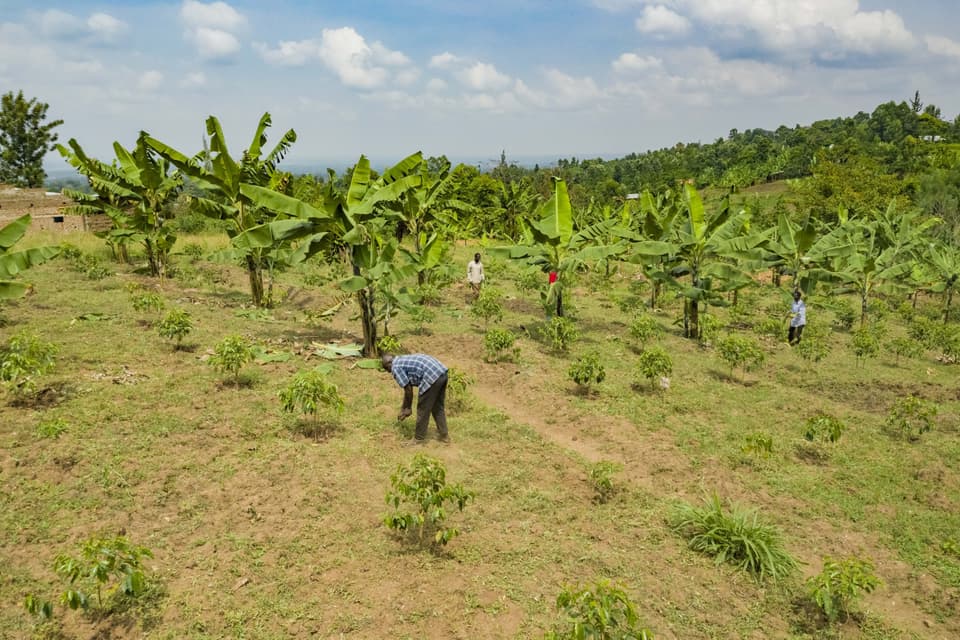 Despite these efforts, Ivan's biggest income generating venture remains under threat because he sometimes find it difficult to afford some agriculture inputs such as mulch and pesticides, which are essential to his coffee's resilience to drought and pests and diseases. Since its insurgence, the coronavirus global pandemic has made transport to and from agricultural shops very difficult for farmers because of lock-down directives. Additionally, many of the ARC project trainings have had to be postponed in adherence to social distancing laws. Despite this, some activities continue to be supported remotely as much as possible.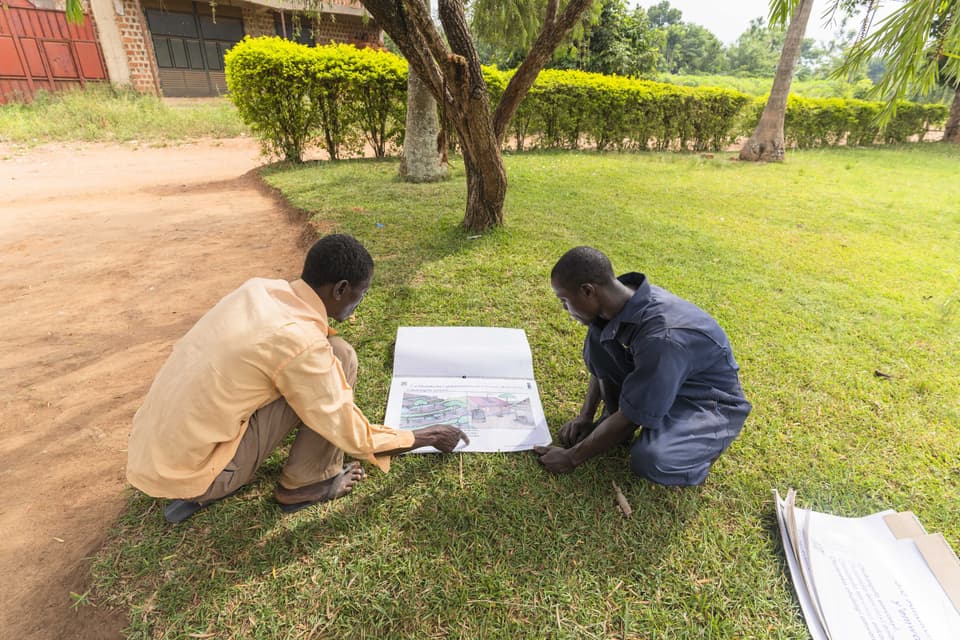 For example, Ivan, who was taught to use some of the dry offcuts from his banana trees for mulch before the lockdown, has been encouraged to share this technique with his fellow farmers in a safe way. Additionally, Ivan was introduced to a simple beetle trap technology developed by the National Coffee Research Institute (NARO), which involves only a recycled water bottle and an ethanol solution to control the Black Coffee Twig Borer pest. This simple contraption can be adopted by other farmers in Ivan's community if encouraged to do so by farmer extensionists like Ivan.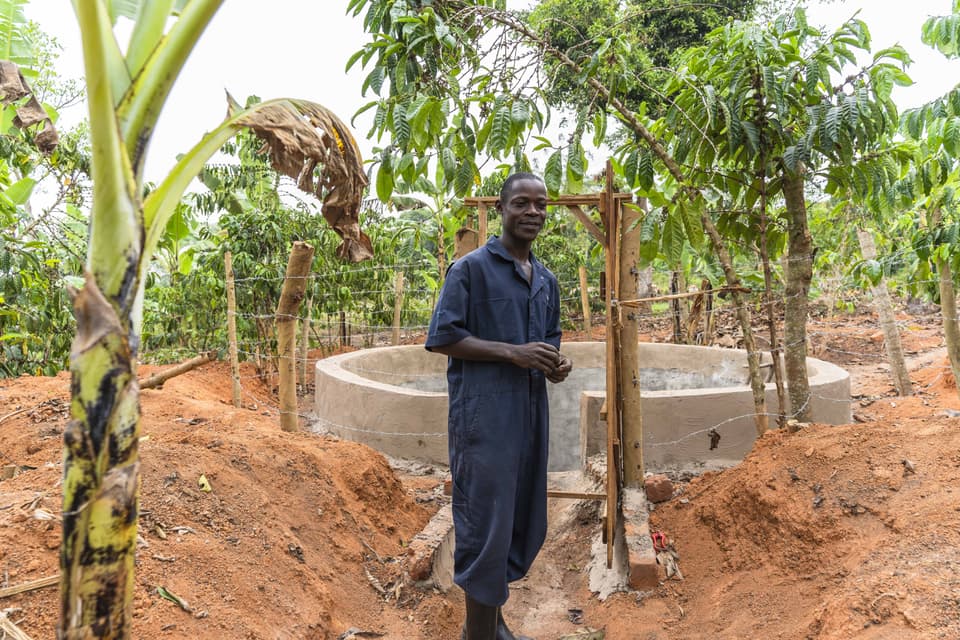 COVID-19 has further illuminated the urgent need to scale up climate interventions for smallholder coffee farmers in Uganda. To help mitigate this, ARC continues to seek innovative and cost-effective practices which can be adopted by farmers to meet them where they are. Now more than ever before, the ARC partners are committed to finding solutions for Ugandan farmers in order to strengthen their resilience to the impacts of climate change and improve their livelihoods.