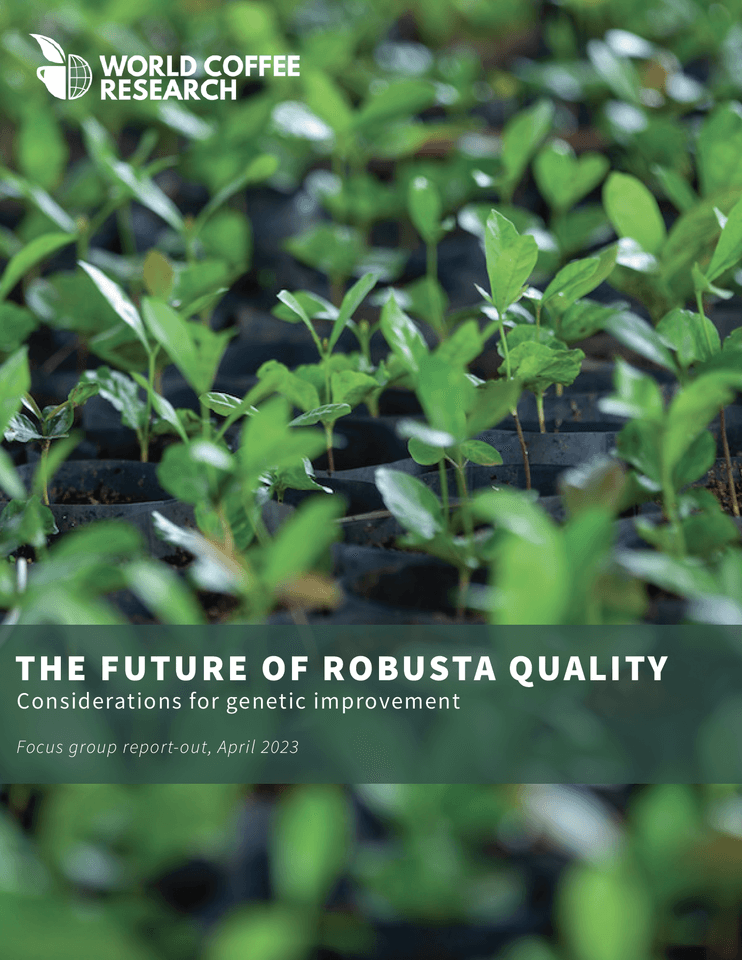 The Future of Robusta Quality: Considerations for Genetic Improvement
Considerations for Genetic Improvement
Focus group report-out, April 2023
In April 2023, World Coffee Research (WCR) convened a focus group of robusta buyers to understand their needs and goals when it comes to improving robusta quality, with an eye toward incorporating quality improvement into a possible robusta breeding program.
The focus group was hosted by WCR member company Lavazza at the Lavazza Innovation Center in Turin, Italy. Buyers of robusta from WCR member companies including Strauss Coffee, Tchibo, Taylors of Harrogate, Keurig Dr Pepper (KDP), Mercon Coffee Group, Sucden, JDE Peet's (JDE), DR Wakefield, and Coffee Circle participated and discussed their needs and preferences when it comes to robusta quality, as well as broader challenges and opportunities for robusta production.
The focus group was led by Dr. Manuel Diaz of ONA Consulting and previously the Coffee Quality Institute (CQI). Accompanying the focus group, participants tasted 23 unique robustas from different genetic groups and quality segments to spur and inform the day's discussions. The coffees were sourced widely from countries including Brazil, Guinea, Guatemala, India, Indonesia, Laos, Tanzania, Timor Leste, Uganda, and Vietnam. WCR breeding team members Dr. Tania Humphrey, Dr. Robert Kawuki, and Dr. Santos Barrera, and Senior Corporate Membership Manager Alexa Heinicke were in attendance to observe the discussion and collect feedback from member company representatives in real-time.
Participants identified the following as key challenges for the future of robusta: supply shortages, farmer attrition, consolidation of origin diversity, consistency of quality, low consumer perception of robusta in some markets, lack of institutional support for improving production or opening new robusta production areas, and regulatory pressure regarding deforestation and chemical inputs. Participants also identified numerous opportunities: stronger market differentiation/segmentation (beyond just soluble, blending, or premium segments), improved consistency, new flavor profiles and product innovation, yield improvements, strengthening farmer profitability, and new production systems (agroforestry/shade, regenerative farming approaches, and intercropping).