World Coffee Research and collaborators awarded new USDA AFRI grant to modernize coffee breeding
Collaborative project will explore technologies and methodologies to make phenotyping—and thus breeding—faster, more efficient, and cost-effective
Earlier this week, it was announced that the United States Department of Agriculture's (USDA) Agriculture and Food Research Initiative (AFRI) will fund a new collaborative project between Ohio State University (OSU), World Coffee Research (WCR), the USDA Agricultural Research Service (ARS) in Hilo, Hawaii, and the Hawaii Agricultural Research Center (HARC), in partnership with coffee farmers in Hawaii. The project, titled "Developing Field-Based High-Throughput Phenotyping for Coffee Yield, Physiological Performance, and Disease Resistance" will be directed by OSU Assistant Professor Dr. Darren Drewry and fall under the scope of AFRI's Plant Breeding for Agricultural Production program.
As breeding tree crops involves lengthy timelines and costly evaluation due to resource demands, programs for both coffee and other perennial crops have suffered from a lack of research and development of modern phenotyping methods. The term phenotyping refers to the methods used by plant breeders to assess physical traits such as vegetative growth, cherry production, cup quality, and nutrient efficiency, among others. Classic phenotyping methods are highly labor intensive.
"This is an extremely timely opportunity to advance coffee productivity and resilience through phenomics given our new initiative at WCR to breed more productive varieties in a faster and more efficient way."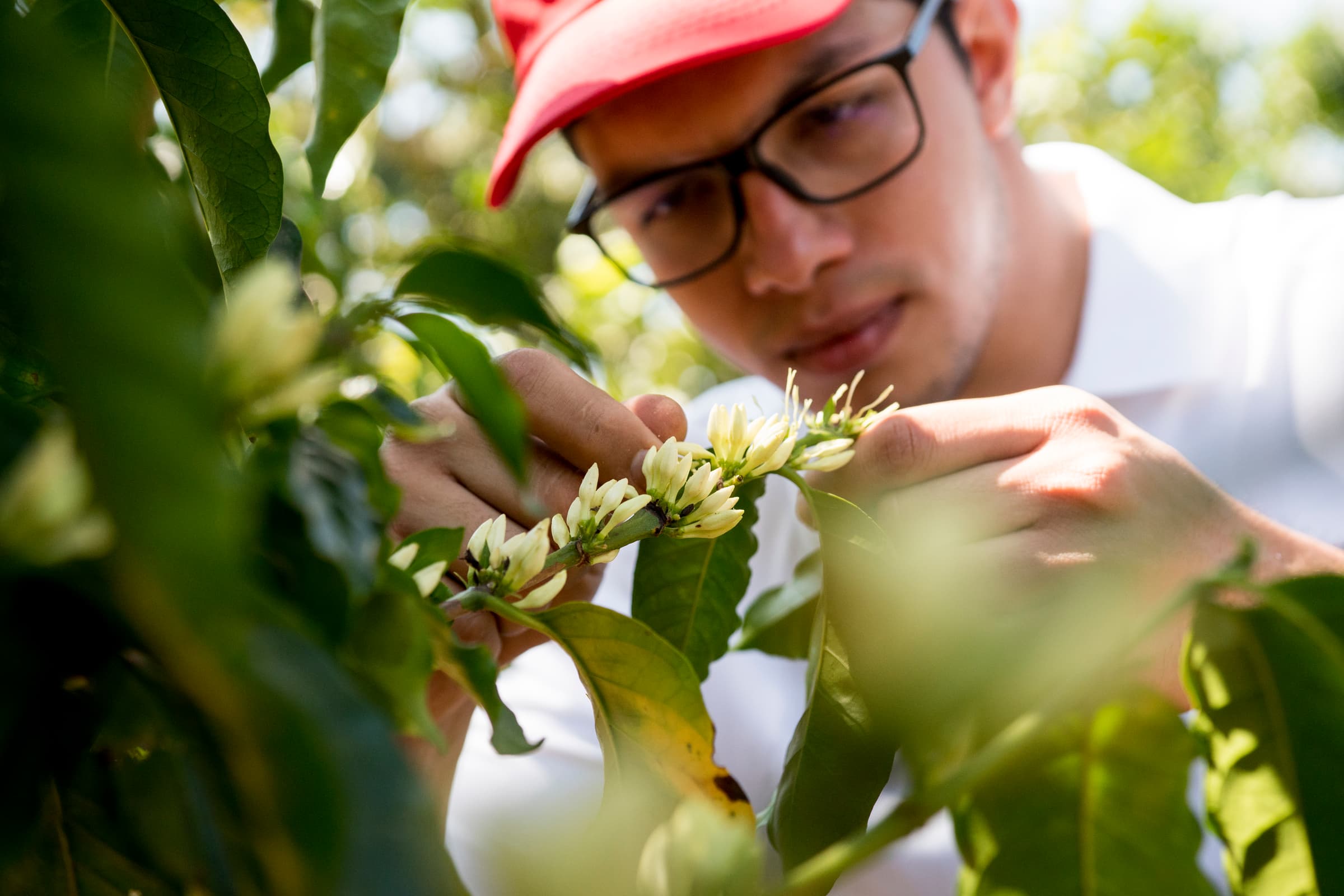 This project will explore technologies and methodologies to make phenotyping—and thus breeding—faster, more efficient, and cost-effective. For example, it may be possible to assess hundreds or thousands of plants for difficult traits (e.g., leaf photosynthetic capacity) with drones or land-based measurements in a faster and more inexpensive manner, saving hundreds of hours of manpower. Overall, the project will focus on the development of phenomic methods, and their integration with genomics, to both improve selection and increase genetic gain in coffee, which will accelerate progress in breeding programs such as the recently launched Innovea Global Coffee Breeding Network. WCR's own Dr. Jorge Berny Mier y Teran, Research Scientist in Plant Breeding and Genomics, and MSc. Julio Alvarado Quintana, Research Technician, will act as key members of the project team.
Through the introduction of high-throughput phenotyping (HTP) techniques—via the integration of hyper-spectral reflectance and gas exchange observations, machine learning, and genetics—the project intends to address the many challenges faced by perennial-tree breeding programs. These general challenges include relatively small populations, long breeding cycles, and the requirement of multi-year field evaluation in large areas, all of which are compounded in coffee production due to the widely diverse environments and agronomic systems in which it is grown.
"This is an extremely timely opportunity to advance coffee productivity and resilience through phenomics given our new initiative at WCR to breed more productive varieties in a faster and more efficient way," said Dr. Berny Mier y Teran in an interview with OSU's Department of Food, Agriculture, and Biological Engineering.
While the Innovea network is funded by WCR's global portfolio of member companies, additional research investments are critical to improve the operational efficiency and quality of this global breeding program—to reduce cost and shorten timelines for the development of varieties. Public-sector investment through programs like AFRI provide crucial support to develop and test the latest advances in breeding and ensure breeding programs can deliver new varieties to farmers more quickly. Hawaii's coffee growers, like coffee growers around the world, need high-quality varieties that are resilient in the face of climate change—and this project is designed to develop tools that breeders around the world can use to expedite variety development.
In this project, WCR will provide access to a population of genetically diverse trees, each with unique variations in productivity, coffee leaf rust resistance, plant architecture, seed size, cupping quality, and other characteristics, from its Flor Amarilla research farm in El Salvador. These plants, in conjunction with a diversity of material from ARS and HARC in Hawaii, will be analyzed and evaluated with the overarching objective of producing tools to support coffee breeding, including algorithms for assessing photosynthetic capacity, leaf nutrient content, leaf rust, and overall productivity in a high-throughput and affordable manner.

The primary goal of this project is to develop publicly available information and technology that will help breeders around the world use lower-cost tools to make quicker advances—and through the Innovea network, breeders will have access to these new approaches. If the project is successful, its results have the potential to redefine breeders' understanding of productivity and ability to optimize this trait in new varieties. Further, the project aims to better understand the accuracy of selection-based breeding on phenomics, genomics, and its integration, as well as to map genomic regions controlling specific traits.
This project will support the long-term success of variety development for Hawaii's coffee growers as well as coffee growers around the world in the years ahead. Work on this project is slated to begin in 2023 and endure over the next four years.